Plein Air Demonstration Memphis TN 2013 - Day Two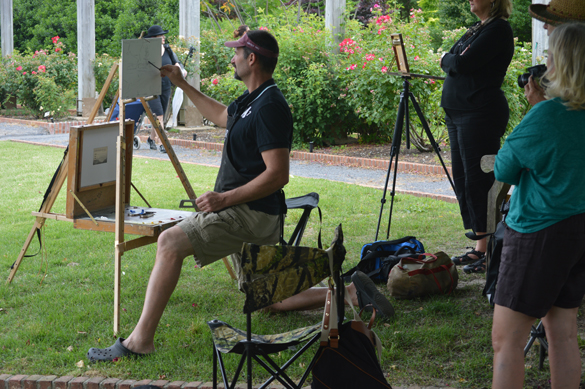 The second day of the Ken DeWaard workshop in the Memphis area was spent at the Memphis Botanic Gardens. What a great place for plein air painting! I love going there myself and do so often to paint and just enjoy the beautiful gardens. Ken chose a spot in the rose garden area. Because of the view he wanted to paint and also because of his extreme height, he had to kneel (ouch!) in order to get the angle on the view that he wanted. Height, another hazard of plein air painting for some!
For the morning, we enjoyed yet another great demo from him, all while explaining his methods and decision making process while painting. I always find this helpful to "hear" what an artist is thinking when painting, especially in plein air settings. There are so many distractions and so much information out there, and it is good to hear what kinds of questions an artist asks themselves when making these decisions under the time and changing light pressure you have when painting outdoors. Ken was excellent at doing this and I found it very helpful when watching him paint. See photos below for more of the demo that day.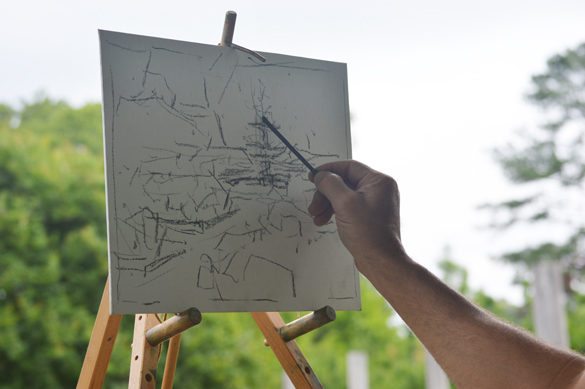 Sketching in his basic composition lines with vine charcoal.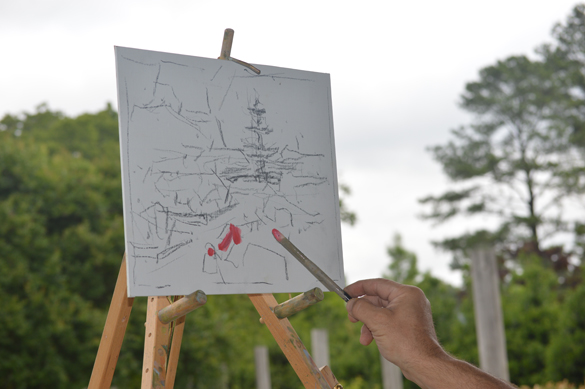 Putting in first color notes of the painting.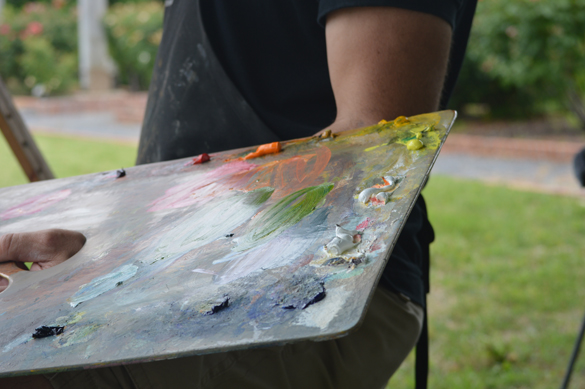 A shot of Ken's palette while in use.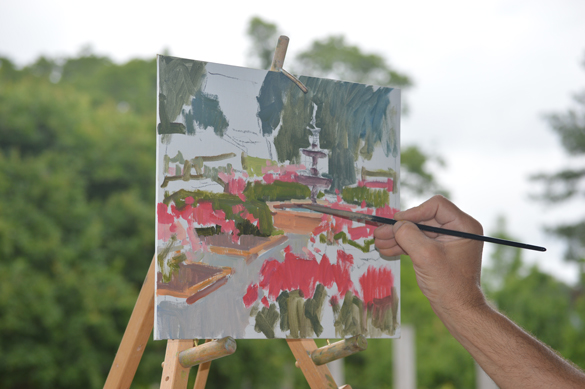 Ken works all over the painting, checking color notes and values against each other as he works.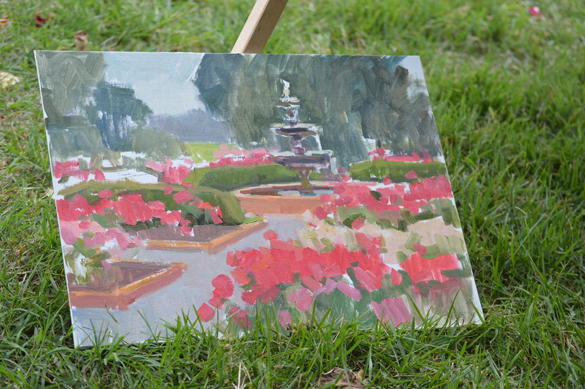 Incomplete demo above, more of a wash in to grab all of the puzzle pieces to be completed at a later time. Ken would later tweak the painting some but said at this point, he had enough information to do so later in his studio. I think too many painters who paint outdoors try to get the "perfect" painting. I am a firm believer that using time painting outdoors as the learning experience that it is makes for a more productive experience than trying to come out with a finished work of art. This is not to say that plein air paintings don't make great art for your walls. MOST of the art I have purchased from other artists that graces the walls of my studio and my home was painted outdoors. But, I do think that the pressure that some artists put on themselves to create a perfect painting each time they are outdoors painting makes some miss the learning opportunity they have when painting from life. One of the best pieces of advice I have ever heard about plein air painting was from artist Scott Christensen during a workshop I took with him. Scott says that the power of observation and the things you can learn from just observing life should be one of the things an artist who works outdoors strives for. I believe that Ken has developed this skill of observation and understands this idea of using painting from life as a learning and growing experience.


After a lunch break, we all set up in various areas around the gardens and painted while Ken came around to help each artist. I really also enjoyed my time with him at my easel. He is able to help you understand and figure out what you need to do to a painting and in the most instructional way. His advice on design of a painting is some of the best I have ever had in a workshop at my easel.
Stay tuned for part three of this workshop review! I will combine days 3 and 4 into the next post!
Provided by Denise Rose - Thank you again Denise!!